Join our team to help others live healthier, happier and more productive lives.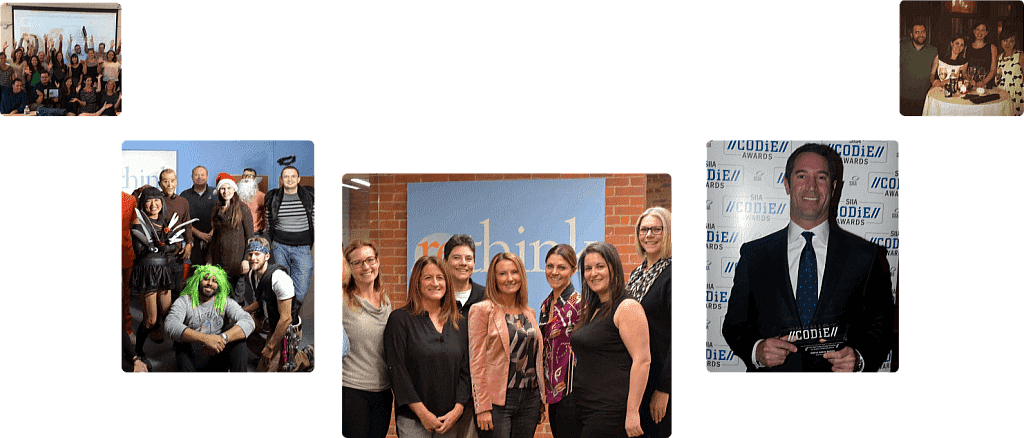 Together, we're a team of passionate, talented and motivated people working every day to help others live healthier, happier and more productive lives.
Individually, we're an incredibly diverse group of people who respect each other, celebrate our differences and unique talents and enjoy meeting new friends and colleagues along the way.
Starting at the very top of our organization, we care about our people and our culture. We're driven by our passion and our compassion and we hope that you will be excited to join our team.
We take our work seriously
RethinkFirst has created a culture that powers the performance of our teams and their leaders through a focus on behavioral health and wellness. No two people work the same way, that's why we've invested in making remote work a success, have team-wide offsite events and support individual employees as they grow their career and invest in their well-being in between day-to-day work. We are proud to abide by the values that we hold for others. Join a community that wants to help you succeed.
Today, we're proud to be a team of over 350 people working to support over 2,000 customers worldwide as we work together to help every individual reach their potential.
RethinkFirst is an Affirmative Action and Equal Opportunity Employer. All qualified applicants will receive consideration for employment without regard to race, color, religion, sex, sexual orientation, gender identity, national origin, or protected veteran status and will not be discriminated against on the basis of disability. Please find more information here: Equal Employment Opportunity Posters  If you'd like to view a copy of the company's affirmative action plan or policy statement, please email [email protected].  If you have a disability and you believe you need a reasonable accommodation in order to search for a job opening or to submit an online application, please e-mail [email protected] This email and is created exclusively to assist disabled job seekers whose disability prevents them from being able to apply online. Only emails received for this purpose will be responded to. Emails sent for other purposes, such as following up on an application or technical issues not related to a disability, will not receive a response.